Gareth Winchester is an Independent prospective parliamentary candidate for Bethnal Green and Bow.
In six words (or less):
[
]
"The Crowd-sourcing Candidate"
Basics:
[
]
Age: 28
Occupation: Lawyer
Born and brought up in Blackburn, Lancashire. Went to university in York, then law college in Chester. Moved down to London in 2006.
Political Beliefs:
[
]
Describes himself as a Traitorous urban-intellectual.
Policies
[
]
General
[
]
Only MPs representing an area more than 100 miles from London will be able to claim a housing allowance which much be of a reasonable sum. All claims to be scrutinised by outside organisations [it is proposed that MPs within 1 hour's travel of Westminster should be barred, which I do not consider to be unreasonable]
MPs will be banned from taking any other positions while they are serving
The MPs' subsidised bar will be scrapped
Party whips would be abolished - MPs should vote on what they think, not what they're told to do
Trident nuclear submarines to be scrapped
Disestablish the Church of England
Scrap the NHS IT system
Scrap ASBOs
Repeal the Racial & Religious Hatred Act
Scrap the ban on "Violent pornography"
Enhance the Freedom of Information Act: compulsory disclosure logs, scrap the Ministerial Veto
An elected House of Lords
A written constitution and a Bill of Rights
Remove all samples from the DNA database except for people whose convictions have not yet been spent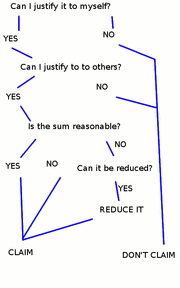 Legalise prostitution
Abolish Crown Copyright and make all government documents copyright-free
Put the National Archives on the Internet
MPs must read and know what Bills are about before they are voted on
All laws to be put on the Internet in a wiki-style format for public comment before the second reading takes place in a similar manner to that proposed by the US government
Civil liberties
[
]
Bring back double jeopardy
Scrap any anti-terrorism legislation passed since 2001
Scrap the Civil Contingencies Act 2004
Only allow people to be extradicted if there is a prima facie case and the suspect is guaranteed a fair trial
Have a public interest defence for whistleblowers
Scrap the Serious Organised Crime Act 2005
Bring back the right to silence
Scrap the use of hearsay in criminal trials
Scrap Contactpoint
Scrap ID cards and the National Identity Register and any data contained within them to be deleted
CCTV would be banned expect for within car parks because it doesn't work;
Libel laws to be reformed so that there is a presumption of innocence and the aggrieved party has to show loss and malice in order to win their case;
All government departments must use open-source software where available
The Parliament protest and police photography laws would be abolished
Cannabis would be downgraded back to a Grade C and Ecstasy would be downgraded to a Grade B, as per the AMCD's advice who would also have a complete say on what to do with other currently-illegal drugs. In any event, drugs would no longer be treated as a criminal issue, but a public health problem;
Public transport
[
]
Greater London
[
]
Shoreditch High Street station would be zone 2, not zone 1 as planned (although this will only affect people travelling from south of Wapping station), with an interchange built with the Central line;
The Waterloo & City line should be extended to Paddington station via Victoria, Knightsbridge and Marble Arch with a further station built at Blackfriars;
Transport for London should have control of all suburban trains within the Greater London area;
The pointless plan for a new version of the Routemaster would be scrapped;
Woolwich Arsenal train station would be moved to zone 3/4, thereby moving the DLR station to zone 3;
Extend the DLR to London Victoria station from Bank;
An express tube line between Hammersmith and Tower Hamlets, possibly via the Victoria DLR extension;
Stations on the Northern line where it crosses the train line under Tooting High Street and on Morden Road where it passes under the Croydon tram line
National
[
]
Bus deregulation to end and councils to have the same powers as Transport for London regarding the services
Extensive electrification of the to-be-nationalised railways would take place;
The Manchester Metrolink would be extended via the East Lancashire Railway to Rawtenstall (and possibly Burnley) and it would also be extended to Wigan and Leigh;
A train line would be built from Manchester to Burnley to help travel from east Lancashire and one would be built from Uckfield to Lewes as a diversion to for London-Brighton trains;
An "M25 train line" would be built encircling Greater London, reducing the need to travel into central London for long-distance train journeys.
Health:
[
]
NHS prescription charges to be abolished. They are unfair, arbitrary in the conditions and medications they cover and are only a minimal source of income for the NHS[1]
Generic versions of medications must be prescribed where one exists
No NHS funding of alternative medicine - treatments must have a valid scientific basis
Remove VAT on feminine hygiene products
Economics:
[
]
Give everybody a tax cut: reduce VAT to between 8 and 10% and increase income tax on higher earners to compensate
Online:
[
]