Nicky Morgan is the
Conservative Party
's prospective parliamentary candidate for
Loughborough
.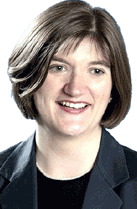 Age: 36
Married to Jonathan Morgan, an architect.
Nicky was born in 1972 in Kingston-upon-Thames. Nicky is married to Jonathan, an architect. In January 2008 they had a son, Alex.
Work and education
Edit
Nicky grew up in Surbiton and attended Surbiton High School before studying law at St Hugh's College, Oxford. She qualified as a solicitor in 1994 and worked as a corporate lawyer specialising in mergers and acquisitions before taking on an in-house counsel role advising on corporate law matters.
Running, attending her local church, cooking, skiing and the cinema.
Political beliefs
Edit
Nicky says, "I came into politics to make a difference to people's lives. For me that means cutting back on the vast state bureaucracy Gordon Brown has created and trying to make government more accessible to people. I am a Conservative because I believe in individual responsibility, the importance of the family, that people who work hard should be rewarded, in small government and high standards in our public services."